THE ​CREW
CASEY ZWAAN

SDI/TDI INSTRUCTOR TRAINER #201 EXPERT REPAIR TECHNICIANSCUBILITY INSTRUCTOR
​​Casey Zwaan founded Beaver Divers in 1986. He is an Instructor Trainer with over 5000 dives and has been teaching diving for 37 years. Casey is an expert when it comes to SCUBAPRO gear. He has been diving it since his first dive in 1973. Casey's newest pursuit is to focus on being a sustainable business. He is the leader of our new green team.
EMILY ZWAAN

SDI OPENWATER & SPECIALTY INSTRUCTORTRAVEL GURU
Emily joined Beaver Divers in 1996 and has been an integral part of the business ever since. Emily's favorite part of the business is the travel to exotic destinations, both culturally and underwater. For Emily there is not one favorite spot. Each destination has it's own merits and fascination. She does like big animals, so destinations such as the Galapagos and Cocos Island hold special intrigue. You will find Emily almost every day running the day-to-day operations at Beaver Divers.
Danny Knoll

SDI OPEN WATER & SPECIALTY INSTRUCTORPADI MASTER SCUBA DIVER TRAINER, EMERGENCY FIRST RESPONDER INSTRUCTOREXPERT REPAIR TECHNICIAN
Danny joined Beaver Divers in 2012. After earning his open water certification he was hooked and quickly went on to become an instructor. He ventured to Grand Cayman and taught everything diving from Open Water to dive master courses. Shortly after, he got his feet wet in Hawaiian waters, working as a instructor/ deckhand on a 80 foot live-aboard dive boat. Now he is back in the Rockies chasing his newest pursuit, diving the National Parks.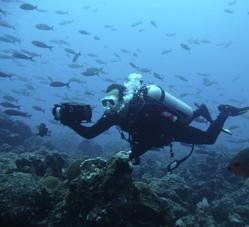 ERIC Waters

SDI OPEN WATER INSTRUCTORPADI OPEN WATER INSTRUCTOR
Eric joined Beaver Divers in 2013 after retiring from the Air Force. He received his open water certification in 1995 while stationed on the island of Guam. Throughout his career, Eric was able to travel the world while enjoying his passion for diving. Thanks to an early retirement, Eric works hard at enjoying all that the Vail Valley has to offer while still taking time to train the next generation of scuba divers.
LEEDS BUTCHER

SDI OPEN WATER & SPECIALTY INSTRUCTOR
Leeds started scuba diving in 2003. He began his professional career in 2010 by receiving his PADI Dive Master Certification, and furthered his education by earning his SDI Open Water Scuba Diver Instructor Certification in 2014. Leeds has a deep love of the ocean, and is focused on coral reef management by conservation of apex predators and sustainable practices.