Skip Navigation
Website Accessibility

_______________________________________
Open By Appointment
Email: SCUBA@beaverdivers.com
for Your Private Meeting
or call (970) 949-1012

Beaver Divers is Colorado's most unique, full-service dive shop. Located 8,000 feet above sea level between Vail and Beaver Creek Resorts on Highway 6 & 24 in Eagle-Vail, our locally owned shop is the highest diving outfitter in the world. For 40 years, Casey and Emily Zwaan have dedicated themselves to operating this energetic, personalized scuba shop and teaching others the art of diving as technical and responsible stewards of our underwater ecosystems. They offer divers and snorkelers all levels of certification classes from beginner through instructor with one-on-one, friendly and professional service.

THE CREW
CASEY ZWAAN
Dive Travel Professional - IATAN Accredited and Insured by DAN
SDI/TDI INSTRUCTOR TRAINER #201
EXPERT REPAIR TECHNICIAN
SCUBILITY INSTRUCTOR
Casey Zwaan founded Beaver Divers in 1986. He is an Instructor Trainer with over 5000 dives and has been teaching diving for 40 years. Casey is an expert when it comes to SCUBAPRO gear. He has been diving it since his first dive in 1973. Casey's newest pursuit is to focus on being a sustainable business. He is the leader of our new green team. He has also been leading divers around the world for over 40 years. Casey is an accredited IATAN travel agent and insured by DAN.
EMILY ZWAAN

SDI OPENWATER & SPECIALTY INSTRUCTORTRAVEL GURU
Emily joined Beaver Divers in 1996 and has been an integral part of the business ever since. Emily's favorite part of the business is the travel to exotic destinations, both culturally and underwater. For Emily there is not one favorite spot. Each destination has it's own merits and fascination. She does like big animals, so destinations such as the Galapagos and Cocos Island hold special intrigue. You will find Emily almost every day running the day-to-day operations at Beaver Divers.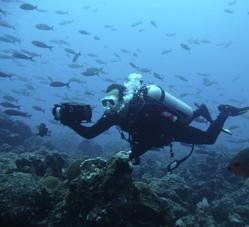 ERIC WATERS

SDI OPEN WATER INSTRUCTORPADI OPEN WATER INSTRUCTOR
Eric joined Beaver Divers in 2013 after retiring from the Air Force. He received his open water certification in 1995 while stationed on the island of Guam. Throughout his career, Eric was able to travel the world while enjoying his passion for diving. Thanks to an early retirement, Eric works hard at enjoying all that the Vail Valley has to offer while still taking time to train the next generation of scuba divers.
SDI OPEN WATER & SPECIALTY INSTRUCTOR

Leeds started scuba diving in 2003. He began his professional career in 2010 by receiving his PADI Dive Master Certification, and furthered his education by earning his SDI Open Water Scuba Diver Instructor Certification in 2014. Leeds has a deep love of the ocean, and is focused on coral reef management by conservation of apex predators and sustainable practices.
Leeds is currently preparing to become a SDI Instructor Trainer.
JEFF BROWN


SDI INSTRUCTOR #22874
CERTIFIED SCUBAPRO REPAIR EXPERT TECHNICIAN II
Jeff is a US Navy Veteran and longtime resident of the Vail Valley. Jeff has been diving with Beaver Divers since 2010. He is an avid international traveler and when he is not teaching diving he enjoys snowmobiling with the local snowmobile club.
Craig Lizotte
SDI Open Water Instructor
PADI Open Water Instructor
Craig started his diving journey with Beaver Divers and fell in love with being under the water. Craig went from Open Water Certification through Instructor with Beaver Divers and also spent time in Honduras for some additional training with PADI. From the cool waters in Colorado to tropical waters around the world there is always something amazing to see.